Construction and Major City Projects
Keep up to date with all the various projects that are happening within Yorkton. New and restorative construction helps keep our city's infrastructure running (with roads, sidewalks, underground pipes, etc.). Approved city budgets guide our major city projects.
2020 projects
Construction projects are dependent on the weather and may change without notice.
City Operations Centre construction
Project description
The City will be combining the six existing Public Works and Parks sites spread across the City into two:
A main operations building
A fleet storage building
Plus fencing around the stockpile site
Start date: May 10, 2020
Estimated close date: September 2021
Deer Park Golf Course Clubhouse conceptual planning
Project description
In 2019 the City of Yorkton conducted an Indoor Recreation Facility feasibility study with aodbt Architecture and Interior Design. In addition to the replacement of the Kinsmen Arena, the Deer Park Clubhouse was also identified as being a facility that has reached, or is nearing, the end of its useful life. As a result, City Council has tasked administration with developing a concept plan and a high level cost estimate for replacing the existing Clubhouse.
Dracup Avenue pedestrian bridge and pathway - Completed
Project description
Construction of the following:
A pedestrian bridge over the drainage ditch across from Dracup Avenue
A pathway from Broadway to Smith Street will extend via the bridge north past Parkland College to Collacott Drive
Start date: May 2020
Close date: September 14, 2020
For more information, please contact: The Engineering department at 306-786-1710
Gallagher Centre renewal project
Project description
In 2018 the City of Yorkton began a planning exercise to explore rehabilitation and enhancements to the recreation infrastructure that serves our community, with a focus on the replacement of the Kinsmen Arena.
In October of 2019, Council directed administration to develop a design for a second ice facility that would be attached to the Gallagher Centre and advance to the Pre-Design step of the process. The Pre-Design step moves from a high level conceptual plan to a more detailed design, including specific layouts of spaces and details. The hope was to obtain more accurate costing from a more detailed design.
A community engagement process was implemented to help gain input and provide feedback to Administration and the Consultant team. This included:
Input sessions were conducted with regular users of the Kinsmen Arena.
Virtual input sessions with users to continue with the design process through the pandemic.
Presentations with Council.
A Virtual Open House of the proposed design was placed on YouTube and a digital feedback process was available for one month after the videos were posted.
Highway 9 bridge - Completed
Project description
Permanent asphalt surfacing for the Highway 9 bridge. The bridge was part of the 2019 North Storm Channel and Highway 9 Bridge project. Due to the onset of cold weather, the roadbed of the bridge deck was not completed in 2019.
For more information, please contact: The Engineering department at 306-786-1710
Highway 9 resurfacing
Project description
Provincial Highways Department resurfacing Highway 9 through the city:
King Street to Queen Street
Darlington Overpass to the Highway 9 Bridge

Starting Thursday, September 24
Two way traffic will be maintained except for a short period when the intersection is being repaved and detours will be in place.
For more information, please contact: Provincial Highways Department
Mayhew and Darlington reconstruction (including roundabout)
Project description
Reconstruction of:
Darlington Street from Dracup Avenue to Mayhew Avenue
Mayhew from Morrison Drive south to Darlington Street
New round roundabout at the intersection of Darlington Street and Mayhew Avenue
Start date: June 1, 2020
Impact to you
Phase 1 - Completed
Phase 2 - Completed
The Roundabout opened September 21, 2020 and includes pedestrian light crossings due to the proximity to nearby schools and the Gloria Hayden Community Centre. Detours will continue for traffic on Darlington Street west from the intersection, as work is underway on Phase 3 of this project.
Phase 3 - Reopened, to be completed in 2021
Darlington Street from the new roundabout at Mayhew Avenue to Dracup Avenue reopened to traffic on Saturday, October 24. Due to the onset of cold weather, the contractor was unable to complete reconstruction of this section of Darlington Street this year. It will remain graveled until Spring, and the contractor will ensure maintenance of the roadway throughout the winter, at no additional cost to the City, until reconstruction work can begin in 2021.
For more information, please contact: Public Works at 306-786-1760
New landfill bridge
Project description
Gravel and cleanup work remaining to complete the project.
Start date: September, 2019
For more information, please contact: Environmental Services department at 306-786-2470 or the Engineering department at 306-786-1710.
Traffic signal replacement – Broadway and Fourth Avenue intersection
Project description
The Streets lights at the intersection of Broadway Street and Fourth Avenue are being upgraded and Broadway Street will need to be closed for up to four days from October 13 through October 16 while this work is underway. Detours will be in place, please slow down and follow the signage.
Start date: October 13, 2020
Close date: October 16, 2020
Detour Map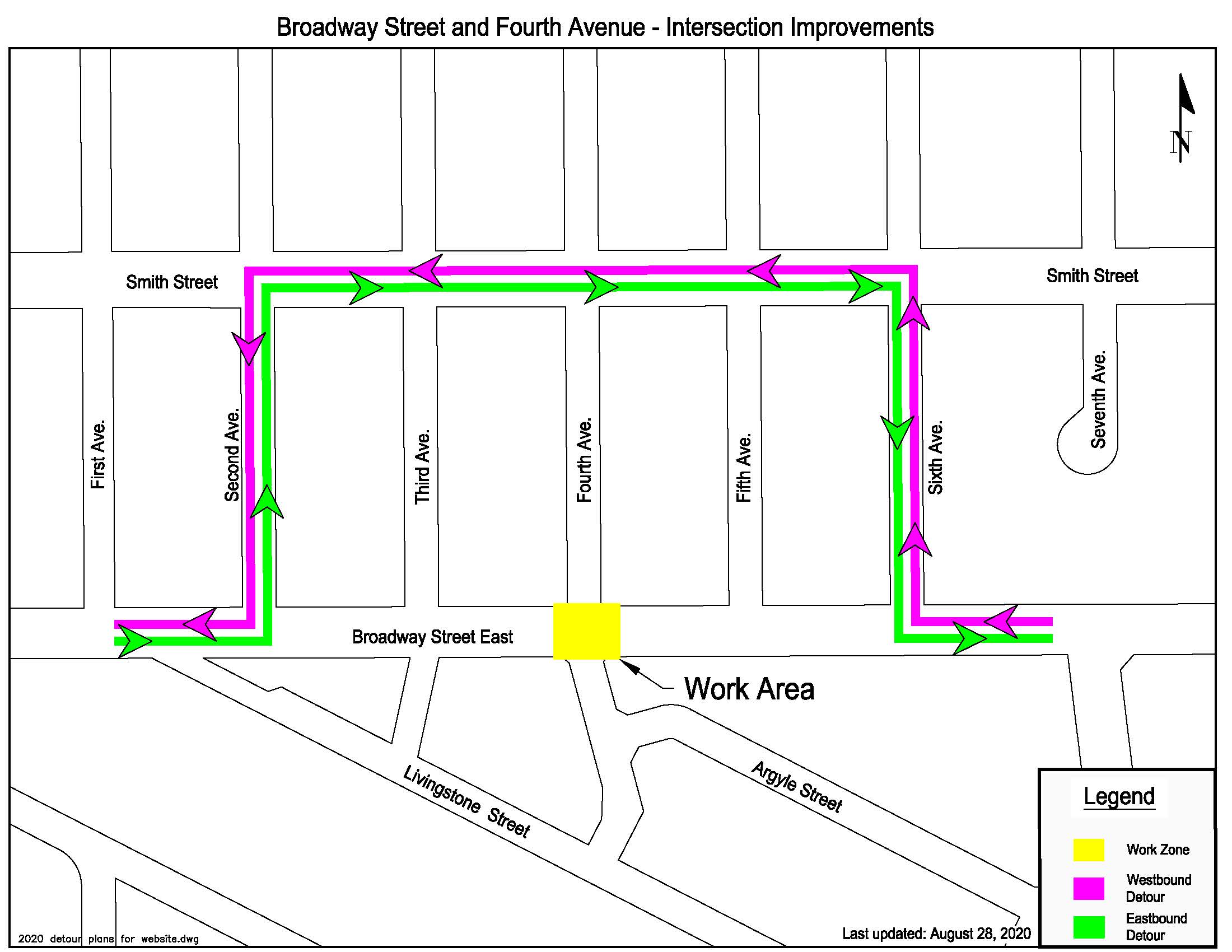 York Road Water Main Replacement - Completed
Project description
The water main under York Road between Third Avenue and Second Avenue was replaced. The work area will extend from Betts Avenue to Fourth Avenue. Water and sewer was also installed at the new City Operations Centre on York Road.
Start date: June 8, 2020
Close date: August 23, 2020
For more information, please contact: The Public Works department at 306-786-176
Whitesand Drive – storm relief line
Project description
On Whitesand Drive from Pheasant Cove (south entrance) to York Road east:
Underground storm water pipes will be upgraded
Sewer pipes will be replace
Drainage ditch and landscaping will be completed
Start date: May 2019
For more information, please contact: Engineering department at 306-786-1710
Access Transit bus replacement
Cemetery storage building - Completed
Circlebrooke water main replacement - Completed
Drainage repair on Bailey Drive to Wallace Avenue
Gladstone roundabout resurfacing project - Completed
Knights of Columbus Park – pathway paving
Sewer replacement on Roslyn Street (between King and High Street)
Silver Heights park – pathway paving
Traffic signal pole replacement – Broadway and Fourth Avenue intersection
Waterpark dehumidification
Ongoing Projects
Asphalt paving program – throughout the City based on condition assessment
Curb and sidewalk replacement program – throughout the City based on condition assessment
General pothole and frost boil repairs
Past Projects
Past Projects
2019 projects
Broadway street overlay (Year two of two)
Paving Highway 9 south service road - Soak Zone
Darlington Street overpass rehabilitation
North sewer systems upgrade
Highway 9 north service road reconstruction - SGI
Airport runway rehabilitation
Circlebrooke water main replacements – Phase 1 completed
2018 projects
Street lights and gravel – Ball Road
Broadway Street overlay (Year one and two)
Airport apron rehabilitation
Gravel roads paving – York Road east
Traffic signal pole replacement – Broadway and Dracup intersection
Ukrainian Pioneer park development
Deer Park – New #8 green
2017 projects
Highway 9 and Broadway Street intersection reconstruction
Broadway Street west – Highway 10 with Provincial Government
Smith Street reconstruction – Dracup to Highway 9
Smith Street reconstruction – Seventh Avenue to Dracup
Darlington Street reconstruction - Design
Silver Heights park improvements
Well 9 and 10 improvements