Public Notice Proposed Closure of Unused Road Allowance

Legal Description and Address
All of Road Allowance ORA 013-03-1-W2 Ext. 0 and Part of Road Allowance ORA 144-26-4-W2
Civic Address: Range Road 2044, south of Grain Millers Drive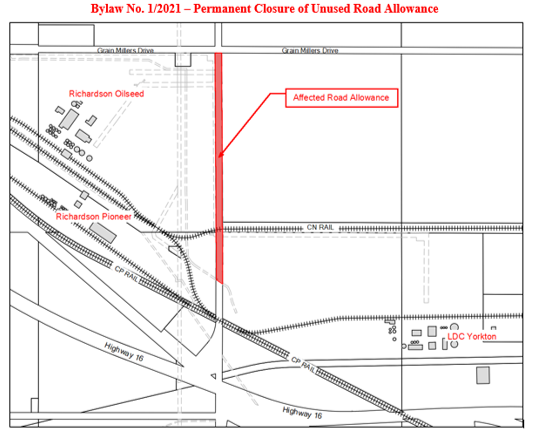 Details
The City of Yorkton proposes to permanently close a portion of undeveloped Range Road 2044, south of Grain Millers Drive and north of the CP rail line. The portion of closed right-of-way is intended to be added to the City's industrial land inventory. Permanent road closures must be approved by the Province, and the City's application must include an adopted Bylaw.
Questions
Questions regarding the application may be directed to Michael Eger, Director of Planning, Building & Development at 306-786-1758.
Public Hearing
City Council will hear all persons who are present and wish to speak to the application and all written submissions will be read verbatim unless the submitter is in attendance to speak on the submission, on Monday, February 22, 2021 at 5 p.m. in City Hall Council Chambers, Yorkton, SK.
If you wish to provide written comments for Council's consideration, they must be submitted by 9 a.m. on Thursday, February 18, 2021. Written submission must be directed to:
Jessica Matsalla, Director of Legislation & Procedures
In person: 37 Third Avenue North
Via mail: Box 400, Yorkton, SK S3N 2W3