The Royal Canadian Legion, General Alexander Ross Branch #77 is proud to bring the Honour Our Veterans banner project to Yorkton. It is hoped to be a legacy project, ongoing and renewing, as a way to bring honour and respect to the veterans connected to Yorkton and area ‐ those who have served our country, from the past and the present ‐ and to bring an awareness of their dedication to our residents.
Showcasing our veterans through the banners, which will be displayed from the beginning of October to immediately after Remembrance Day, will be a tribute to those who should be recognized and not forgotten.
The Royal Canadian Legion
The Royal Canadian Legion is Canada's largest veteran support and community service organization. The General Alexander Ross Branch was founded in 1926. We currently have over 100 members and we work to make a difference in the lives of veterans and their families, provide essential services within the community, and remember the men and women who made the ultimate sacrifice for our country.
Through our annual Poppy campaign, we are able to raise funds and make yearly donations to Air Cadets, Army Cadets, Navy League Cadets, The Health Foundation of East Central Saskatchewan, SIGN Senior Mobility, Meals on Wheels, Dundurn Military Family Resource Centre, Moose Jaw Military Family Resource Centre, Leave the Streets Behind program, Discovering the Power in Me program and other programs as needed including support for local nursing homes and retirement communities.
Bursaries are awarded annually to eight high school students to financially support their post‐secondary education. We involve our local youth in Remembrance assemblies every Veterans Week and encourage their participation with our Remembrance Poster and Literary Contests. Several schools help us prepare for the Poppy campaign and Cadets and Scouts help out yearly with Tag Day.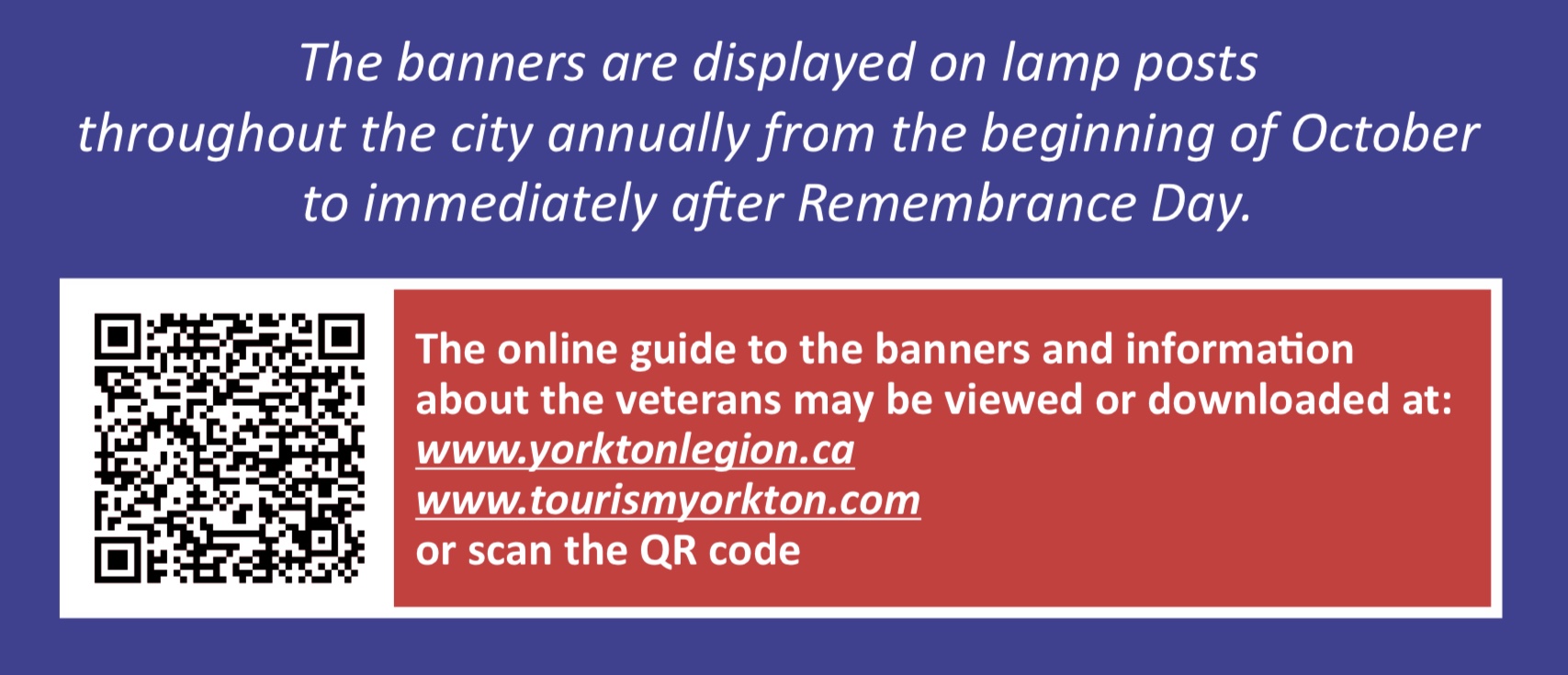 Veterans
Fred Acoose - WWII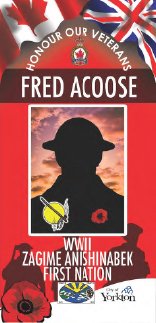 "In 1939, Canada found itself at war for the second time in a generation. As in the First World War (1914‐18), thousands of Indigenous soldiers and nurses volunteered for the war effort at home and abroad, serving with distinction in the Canadian army, navy, and air force. At least 3090 First Nations soldiers enlisted in the Canadian military in the Second World War, with thousands more Métis, Inuit and non‐Status Indian soldiers serving without official recognition of their Indigenous identity."

‐TheCanadianEncyclopedia.com
Honoured by the Yorkton Tribal Council
Victor James Alexson - WWII, RCAF
Victor Alexson voluntarily enlisted to serve his country, and was at one of the most horrific battles of WWII ‐ Dieppe. He survived the battle, but when he was discharged, he struggled with shell‐shock. His family felt he was not the same man when he came out of the war as he was before his service. Sadly, Victor Alexson died at age 58.
"While exact statistics are difficult to determine, the rate of Indigenous participation in Canada's military efforts over the years has been impressive. These determined volunteers were often forced to overcome many challenges to serve in uniform, from learning a new language and adapting to cultural differences, to having to travel great distances from their remote communities just to enlist."

‐Veterans.gc.ca
Honoured by the Yorkton Tribal Council
George Oscar Arnold - WWII, RCAF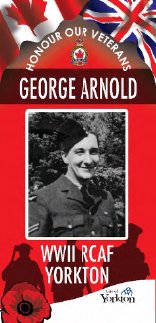 George was born in April, 1924, and was the eldest of five children born to Emil and Helen Arnold of Stalwart, SK. George enlisted in the R.C.A.F. in 1942. He entered the Western Emergency Training Plan based in Moose Jaw, and then took basic training in Toronto. He later saw duty at Davidson, Yorkton, Winnipeg and Portage La Prairie. In 1946, he married Loraine Mooney of Imperial, SK, and took his discharge later that year. Yorkton became home to George and his wife in 1969, where he continues to reside today.

Honoured by the Arnold family
Walter C. Austman - Korean War, United Nations PPCLI
Walter (Wally) Austman, 1932‐2010, grew up on a farm near Spy Hill, and spent the last 37 years of his life in Yorkton. Wally joined the Canadian Army in 1950, a month after his 18th birthday. Posted to the 1st Battalion, Princess Patricia's Canadian Light Infantry (Airborne), he was trained as a paratrooper, qualified as a Marksman/Sharpshooter, and then received additional training as a radio operator. He was posted to Korea and served three UN tours of duty with more than 18 months spent in various positions at the front, including close‐quarter combat on Hill 355, The Hook, Hill 166, and numerous fighting and recce patrols into North Korean/Chinese positions. He was a proud member of the Legion and marched with the Colour Party at every opportunity.

Honoured by his loving family: the Halls, Austmans and Feists
Russell Bischop - WWII, RCAF
Russell Bischop was born on November 28, 1920 in Dunleath SK. He was raised in Yorkton SK. Russell joined the RCAF in 1940 as an aero‐design engineer. He remustered in 1942 as a pilot. Russell was a member of the Royal Canadian Legion General Alexander Ross Branch #77 for 70 years. In 1984, Russell rebuilt a World War II Cornell training plane. The project was completed in 1990. The plane was airworthy and Russell flew it many times. Russell passed away in 2016.

Honoured by the Bischop family
Rudolph (Rudy) Bode - WWII, Army
November 3, 1919 ‐ October 6, 1991
Rudy enlisted in World War II training in Dundurn SK. He was stationed in Vernon BC as a Gunner with the Artillery when Japan attempted to enter North America through the Aleutian Islands. As part of the joint Canadian/US forces, he went into action at Kiska Island preventing the Japanese advance. After the war, Rudy returned to Sheho SK and married Lil Feuchuk. He worked at the Yorkton Milling Company and then with the public school division until he retired. Rudy and Lil raised five children: Leonard, Dennis, Dale Desmarais, Garth and Daryl. Rudy earned his Honorary Lifetime Membership in the Royal Canadian Legion at the General Alexander Ross Branch in Yorkton where he also received a Certificate of Merit for outstanding service.
Honoured by the Bode family
Fred Bodnaryk - WWII, Army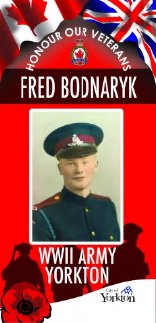 Fred Bodnaryk was born in 1921 in the Hampton District of Saskatchewan. He enlisted in the Army on Jan. 1, 1943 and reported to the Canadian Army No. 12 Clearing Depot in Regina. He travelled by train to Vancouver and on to Victoria via the Queen Mary ship to take his basic training for six months. He then travelled to North Vancouver for his advanced training. Fred was with the RCA Heavy Artillery F Troupe 21st Battery 28th Regiment. He was in charge of one detachment, which consisted of 12 men to one gun. He did a lot of guard duty of the Lion's Gate Bridge and similar structures. He was drafted overseas but was not called. After his discharge Fred worked at the Sawyer Massey Ammo factory in Hamilton, Ontario, building naval guns. In the spring of 1945 Fred returned to the family farm.

Honoured by the Bodnaryk and Holowatuk families
Steven Borys - WWII, Army
Steven was born October 5, 1918 and was the son of Metro and Mary Borys of Yorkton. He attended Fone Hill School, was a sportsman ‐ loving all sports ‐ and a true prairie farm boy. Steven joined the Canadian Army Infantry in June 1940 and was part of the South Saskatchewan Regiment. He served during WWII and was killed in action at the Battle of Dieppe when the South Saskatchewan Regiment landed on Green Beach to take part in Operation Jubilee on August 19, 1942. He was 24 years old. Steven is honoured at the Dieppe Canadian War Cemetery, Hautot‐Sur‐Mer, France. May he rest in peace.

Honoured by the Borys Family
Nicholas Bretherton - WWII, Army and RCMP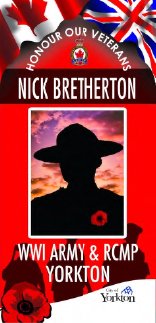 Nicholas Bretherton was born in Litham, Lancashire, England on Aug. 5, 1893. He enlisted in Moose Jaw SK in 1915 but had already served in the Active Militia for one year and spent three years in the 4th V3/4B Royal North Lancashire Regiment. By 1920, Nicholas's final rank was Acting Company Sergeant Major of the 46th Battalion, Canadian Infantry. He received his Military Medal in 1917, his Military Medal First Bar in 1919, and his Distinguished Conduct Medal in 1920. Sergeant Bretherton went on to join the RCMP upon his return to Canada and served his community in Yorkton where he retired as Staff Sergeant. He was buried in Yorkton in 1970.

Nominated by Mathew Stringfellow
Honoured by Yorkton RCMP City Detachment, S/Sgt. Jeff Simpson
Gordon Brown - WWII, Army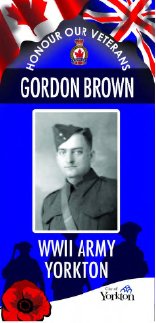 On January 30, 1940, at the age of 23 in the city of Regina, Gordon enlisted in the army. He became part of the Transportation 1st Corps Ammunition Park R.C.A.S.C. Gordon landed in Scotland on February 8, 1940. He was involved in bringing soldiers back from Dunkirk and taking troops to the ships for Dieppe and bringing fewer soldiers home. In 1943 his unit joined the Italian campaign. He was one of the few Canadians to experience the liberation of Rome. His unit then moved on to Naples and then across to France. They travelled up the French Riviera to Netherlands. At the end of the war, Gordon joined the Army of Occupation in Germany. He was discharged on Feb. 4, 1946.

Honoured by Lorne and Juanita Brown and family
Ronald Bryan - WWII, Army
Ronald was born in Tonkin SK in 1922. He lived on the farm until enlisting in the Army in 1942. He served as a gunner until demobilization in 1946. He served in Canada, Britain and Northwest Europe. In Netherlands, he met the love of his life, Betty. They were married at the end of the war and came back to Canada. They started their life together in Yorkton SK in 1956. Later they moved to Winnipeg where Ronald worked at CNR until his retirement at 65. Ronald died in Winnipeg in 2006 at 84 years of age.

Honoured by Rex and Randy Goulden
Raymond Bucsis - WWII, Army
Raymond Bucsis was born in the Happy Centre district of Saskatchewan, south of Willowbrook, in 1922. He served with the South Saskatchewan Regiment and spent time in England, France, Belgium and Netherlands during the war. At the conclusion of the war, Raymond was part of the occupation forces in Germany. Raymond met and married Emily (Kay) Bull while in England. They made their home in the Otthon area, where they farmed and raised their family.

Honoured by Dave Bucsis and family
Randy Bunzenmeyer - United Nations Cyprus, Yugoslavia, Army
Born May 21, 1957 in Yorkton SK, Bunzy joined the Canadian Armed Forces, PPCLI, in 1973 at age 17. Randy completed 20 years of service with 1 PPCLI, based in Calgary AB and an additional three years with 2 Commando, Canadian Airborne Regiment, based in Petawawa ON. After numerous trips as a UN peacekeeper in foreign countries, he retired with the rank of Master Warrant Officer (MWO) and as Sergeant Major of B Company 1 PPCLI in 1996. Randy served on multiple deployments into Cyprus and Yugoslavia, and was a talented Master Sniper, Reconnaissance Patrolman and Paratrooper. Known to his friends as Bunzy, he will always be remembered for his big broad smile, his mischievous grin, and his fun loving eyes. On May 20, 2001 PTSD sadly claimed Randy's life. He leaves behind a loving family and an army of friends. In Bunzy's memory, and for the sake of other veterans, please become aware of Military Minds, the Rolling Barrage, and the horrifyingly damaging effects of PTSD.

Honoured by his family and friends
William Joseph Caldwell - WWII, Army
William (Bill) Joseph Caldwell (1910‐1971), a lifelong resident of Yorkton and area, served in WWII. He volunteered in 1940 and served with the 20 Army Tank Regiment (16/22 Sask. Horse) and 28 Canadian Armoured Regiment (Duke of Connaughts). Bill served in Canada, Britain, Northwest Europe, and participated in the liberation of Netherlands. For his service he was awarded five medals. Bill was a proud veteran of the Canadian Army and a member of the Yorkton Legion, General Alexander Ross Branch. He and his wife (Marguerite Rice) raised five children in a wartime house on Peaker Avenue.

Honoured by His children Carmella, Judy, Francis, Elaine and Bernice
Nick Chutskoff - WWII, Army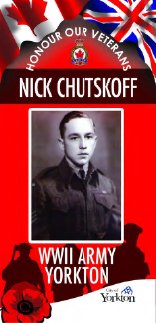 Nick was born on August 31, 1921 near the village of Runnymede SK. In 1942, Nick enlisted with the Queen's Own Cameron Highlanders of Winnipeg. He rose to the rank of Acting Company Sgt. Major, and participated in the liberation of Netherlands. Following his discharge from the army, he married Irene Mary Howe in 1946. Nick and his family spent many years in Yorkton. He was a respected businessman and an active member of the Yorkton Legion as well as the Yorkton Rotary Club. Following the death of his first wife in 1986, Nick retired to British Columbia. He met his second wife, Iris Craig, in 1990. After a long and enjoyable retirement, Nick Chutskoff passed away in White Rock BC on March 9, 2018, at the age of 96.

Honoured by the Chutskoff family
Albert E. Cote - WWII, Army, New Brunswick Rangers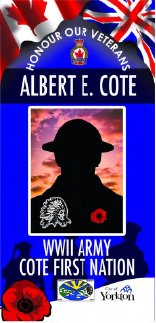 Corporal Albert E. Cote fought in WWII in the 4th Canadian Division. He served in England, France, Belgium, Netherlands, and Germany from August 12, 1940 to February 1945. He was a proud member of the New Brunswick Rangers.
"In 1943, the Rangers were sent to Britain, where they were converted to a heavy weapons support unit, armed with machine guns and mortars in preparation for the invasion of Normandy. Present at many of the critical moments of the campaign, the Rangers participated in the Battle of the Falaise Gap, which cleared the way for the advance on Paris and the German border; the Battle of the Scheldt, which secured the vital supply lines of the port of Antwerp; and the Battle of the Reichswald, when German resistance on the west bank of the Rhine was finally broken."

‐Matthew Douglass
Honoured by the Yorkton Tribal Council
Antoine (Tony) Cote - Korean War, Royal Canadian Artillery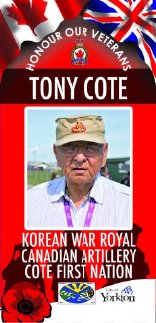 Tony was born at the Cote First Nation Reserve in 1935, the youngest child of Frank and Ellen Cote, and great‐grandson of Chief Gabriel Cote, a spokesperson for Saulteaux Tribes for the Treaty 4 signing. He joined the Canadian Army 25th Infantry Brigade in 1952 and spent nearly six years as a bombardier with the 81st Field Regiment in the Royal Canadian Artillery from 1952 to 1958, serving 14 months in Korea. Tony is a survivor of the Indian Residential School and perhaps because of this horrific experience is known for his philanthropy and dedication to Indigenous people in Saskatchewan and Alberta. He was inducted in the Saskatchewan Sports Hall of Fame in 2011, Saskatchewan Order of Merit (SOM) in 2008, and received the Tom Longboat Medal in 1974. He received much recognition, many awards, and accomplished many firsts for Saskatchewan First Nations while Chief of Cote First Nation (1970‐1978), YTC Tribal Chief (1973‐1976 and 1995 – 2000), and FSIN Executive Council Member (1976 – 1980). Mr. Cote died in 2019 at the age of 84.

Honoured by the Yorkton Tribal Council
Michael Derkach - WWII, Army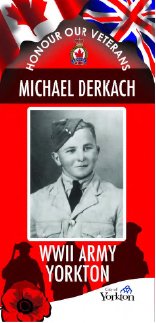 Michael Derkach was born on Dec. 25, 1923 in Bedfordville SK. He enlisted in the Royal Canadian Engineer Corps on June 5, 1942 in Saskatoon. Mike trained in Dundurn SK and Nanaimo BC. He served overseas in Great Britain and the Northwest European Campaigns in the UK, France, Germany, Belgium and Netherlands. In his enlisted service, he did MT work and qualified as a Driver Mechanic Group C. An Honourable Sapper, he was discharged on January 26, 1946. His medals and decorations include the 1939 ‐ 45 Star, the France and Germany Star, Defence Medal, Canadian Volunteer Service Medal with Clasp and War Medal 1939 ‐ 45. Mike married Mary Stelmacovich in 1947. He served as a Legion member from the 1960s to 1991. He worked many years in Yorkton before his death in 1991, at the age of 67.

Honoured by the Derkach family
Edmund De Wind - WWI, Canadian and British Army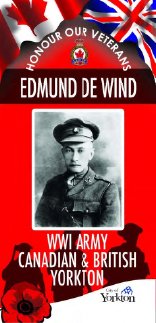 Edmund De Wind, VC, (Dec.11, 1883 – March 21, 1918) was a British Army officer during WWI, and posthumous recipient of the Victoria Cross, the highest and most prestigious award for gallantry in the face of the enemy that can be awarded to British and Commonwealth forces. He served with The Queen's Own Rifles of Canada for a period of six months prior to his enlistment in Yorkton as a private on Nov.16, 1914, in the 31st Battalion‐Alberta Regiment, Canadian Overseas Expeditionary Force. He arrived in France with the 2nd Division of CEF in September 1915. He saw action in the Battle of the Somme

(1916) and at Vimy Ridge (1917). He earned a commission in September 1917 in the British Army. As a 34‐year‐old Second Lieutenant in the 15th Battalion, The Royal Irish Rifles, he was awarded the VC for deeds committed during the 1918 Spring Offensive on 21 March 1918. He died on that day.
Honoured by ChickenCow's Hearing Centre
Eric B. Draper - WWII, Army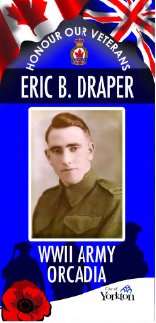 Eric was born on Oct. 8, 1918 on a farm near Orcadia. He attended school in Yorkton, and when the war broke out in 1939 he enlisted with the 64th Battery in Yorkton. He trained in Saskatoon and Dundurn and then went to Fort Garry in Winnipeg. From there, he travelled to Ottawa, Montreal and New York, before sailing for England on the Empress of Japan. Six weeks later, he was transferred to the 5th Division, 17th Field, Royal Canadian Artillery Armoured Tank Division. He trained for a month in northern England and then mobilized to Italy where he first saw action at Ortona on January 13, 1944. After leaving Italy, he went through France, Belgium, Netherlands and into Germany itself. After the war, Eric came home to farm in the Fone Hill area. He belonged to the Yorkton Legion for many years before passing away in 2003 at 85 years of age.

Honoured by his family
George Sletten - WWII, RCAF, 410 Squadron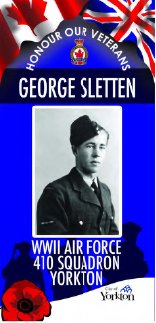 George was born in Norway on October 29, 1922. In 1929 at the age of seven he moved to the Lintlaw area of Saskatchewan with his mother and three siblings. In April of 1941, George joined the Royal Canadian Air Force, and in November of that year he was sent over to England. George spent three and a half years overseas with the 410 squadron of the RCAF. After returning home to Saskatchewan he was married to Marie and lived in Bulyea and Regina for many years. In 1961 George bought Shepherd Adamson Agencies, and moved with his wife and four children to Yorkton. George was a long‐ time member of the Lions Club and the Yorkton Legion.

Honoured by his family
William James Smee - WWII, Army
William Smee was born on May 2, 1919. On Feb. 8, 1941 William joined the army in Regina, and went through basic training in Farhan, Quebec. William arrived in the United Kingdom in July 1941 and was assigned to the 8th Canadian Recce Regiment. Three years later he arrived in France and with his unit, fought in the area of Falaise. On August 22, he was wounded and sent to a military hospital. After five months, he was returned to his unit which was now in Netherlands. While in the area of Groningen, Netherlands, trying to clear a house of German soldiers, he was captured and taken prisoner. He was released to a military hospital about a month later and was able to return back to Regina in July 1945. He soon received an Honourable Discharge from the army, and eventually bought a farm in the Turtleford area where he remained a bachelor, dying in 1996 at the age of 77.

Honoured by the Smee family
Anthony Smysnuik - WWII, Navy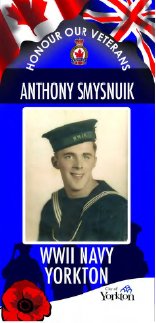 Anthony (Tony) Smysnuik was born October 14, 1922 in Ituna. In 1941, at the age of 18, Tony volunteered for service with the Royal Canadian Navy. He served for seven years. His commission included service on the Atlantic high seas during WWII and on a number of goodwill tours around South America after the war ended. Service medals received were the 1939 ‐ 1945 Star, the France and Germany Star and clasp, the Canadian Volunteer Service Medal and clasp, and the War Medal 1939 ‐ 1945. Tony was discharged on August 4, 1948 at the rank of Leading Seaman. He passed away on December 5, 1992.

Honoured by the Smysnuik family
John H. V. Stackhouse - WWII, NRMA Infantry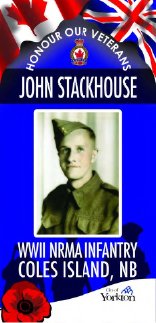 Private John Hazen Vincent Stackhouse was born July 7, 1916 and passed in 1993. John enlisted at Fredericton NB on April 11, 1942. He then trained in Prince George, Vancouver, Camp Borden, Aldershot, Valcartier, and Halifax. As a member of the NRMA Infantry, John Stackhouse served overseas in Netherlands, Scotland, and England, as well as France and Germany. He was a very private man and did not talk about his military life after returning home. He lived the remainder of a peaceful life in Coles Island NB, near Sussex.

Honoured by Mike and Roy Stackhouse
Marion Stackhouse - WWII, CWAC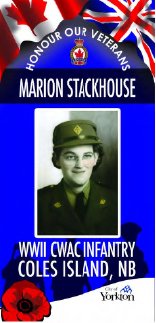 Marion Elizabeth (Hanington) Stackhouse was born September 3, 1923 and passed away October 18, 2017. Marion was a member of CWAC, Canadian Women's Army Corps. She took her training in and was then stationed in Kitchener ON. In 1943 Marion was assigned to the Amherst Canada Car Plant, making and fitting parts for Avro Anson, a British twin‐engine multi‐role aircraft that was frequently used by the RCAF and other forces. She also worked in Ottawa for the Signals Department. After WWII she studied business at Oulton's Business College in Moncton. She was a life member of the Women's Missionary Society and the Royal Canadian Legion, Sussex Branch #20. She lived in Coles Island NB (near Sussex). Marion's husband and Private John Stackhouse were brothers.

Honoured by Mike and Roy Stackhouse
George Stamatinos - WWI, Greek Army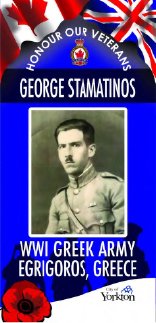 George was born in Greece in 1897 and was raised in the village of Egrigoros on the island of Chios. George fought for the Allies on the Bulgarian front during WWI and spent three years as a prisoner of war in Turkey. George was conscripted for nine years and was then excused from further service after the then Monarch of Greece asked him how long he had served his country and what his age was. After being honourably discharged, George returned to his village where he farmed with his wife and two sons. George's son Louis immigrated to Canada in 1960 and was followed by his brother Gus in 1962.

Honoured by Gus and Louis Stamatinos and their families
Freda P. Stevenson - WWII, British Army ATS Nursing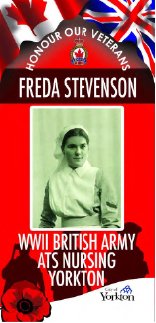 Freda P. Stevenson volunteered and served Great Britain as a nurse in the Women's Branch of the British Army, the Auxiliary Territorial Service which served essential non‐combat roles. She was based in London, England, and served as a nurse caring for all Allied wounded troops. It is here she met and married Samuel W. Stevenson, coming to Canada as a British war bride on May 8, 1946. She was a brave, courageous and strong woman, mother and wife who was a staunch supporter of women's changing roles and rights in Canadian society. We shall remember her. Her name will live forevermore.

Honoured by the Stevenson family
Samuel W. Stevenson - WWII, Army
Sam Stevenson was known as a man who had a song on his lips, loved people, life and his country. He volunteered with the Canadian Army 1st Yorkton Light AA on September 9, 1939 and gallantly served his country from 1939 to 1945 as a Lance Bombardier and Gunner. He served in the United Kingdom, Sicily, Italy, France, Belgium, Netherlands, and Germany, receiving an honourable discharge on September 18, 1945. A true Canadian soldier, forever honoured and remembered by his children, grandchildren and great‐grandchildren. His name, strength, courage, valour, and honour live on. We shall remember him. His name will live forevermore.

Honoured by the Stevenson family
Chub Tamblyn - WWII, Army MC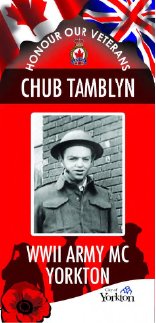 G.O. Chub Tamblyn was born in Watrous, moved to Unity and then to Yorkton in time to graduate from Yorkton Collegiate Institute. Chub was in the 6th Armoured (1st Hussars) during WWII. This later became the senior regiment of the 2nd Canadian Armoured Brigade. On April 13, 1945 the 6th Canadian Armoured Regiment, commanded by Lieutenant Tamblyn, was supporting troops headed to Apeldoorn. His crew took out two enemy posts before their tank was hit and his crew injured. Lieutenant Tamblyn carried his crew to safety and then took over another tank to eliminate the third post. As a result of his "brave and inspired conduct" the troops were able to continue to Apeldoorn. Chub was awarded the Military Cross for his actions. Upon return to Yorkton, he and his wife Mary (Logan) raised their four sons. Chub lost his only brother, Hugh Tamblyn, in WWII. Hugh was an RAF fighter pilot.

Honoured by the Tamblyn family
Kenneth Lawrence Tate - Korean War, Army
Ken was born in Vermilion AB on April 24, 1932. Ken and his siblings spent their youth living on several farms in eastern Alberta and southwestern Saskatchewan. He enlisted in Edmonton AB on December 4, 1951, and was deployed to Korea in June 1952 with the 3rd Battalion Princess Patricia's Canadian Light Infantry (PPCLI), relieving the 2nd Battalion. Ken also served as a member of the Canadian peacekeeping force in Germany, where two of their three children were born. He was honorably discharged April 20, 1958. Ken and his family returned to Edmonton where he began a long career in the roofing industry, working as a manager for Otto Roofing in Edmonton and Calgary AB, and with Clark Roofing in Regina and Yorkton SK. In 1981, Ken and Doreen moved to Creston BC, opening a roofing and construction company that he operated until his retirement in 1998. Ken died in January 2000 of cancer.

Honoured by the Tate family
Norman L. Taylor - WWII, Army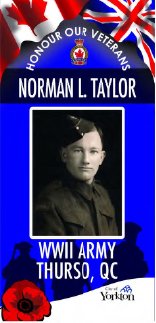 Norm was born in 1918 in the province of Quebec. His first attempt to enlist saw him rejected on medical grounds. In 1941 he was approved for army service in Canada only. Once enlisted, he talked his way into being sent to Europe. Norm served in the Royal Canadian Corps of Signals. For a period of time he was seconded to the New Zealand Army in the role of a driver and mechanic, as well as to teach truck driving. Following two years in England, he spent a year and a half in Italy as part of the allied army that began fighting northward before D‐Day. He served his final months in Netherlands before returning home.

Honoured by Donna and Dave Buscis
The Unknown Soldier - All Soldiers, All Wars Everywhere
The Unknown Soldier represents the approximately 116,000 Canadians who gave their lives for their country, including about 28,000 soldiers whose resting place is unknown, as well as all members of all branches of the Canadian Armed Forces who died or may die in all conflicts, past, present, and future.

Honoured by Debbie Sapara and The Yorkton Crossing
Courtney Ward - WWII, Army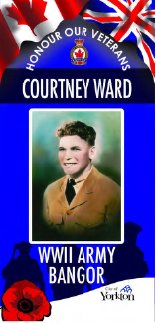 Courtney Ward joined the army in 1943 in Calgary AB. He was transferred to the Regina Rifles Regiment and thus had the title of Rifleman Courtney Ward. Courtney was shipped overseas in the spring of 1944. On June 2 he left the UK for France where they landed on the coast on June 6, 1944. He was killed September 17, 1944 at Caen, France. He had a temporary grave near the area where he was killed but his remains were later moved to the Canadian Military Cemetery in Calais, France.

Honoured by his family
David F. Wiley - WWII, RCAF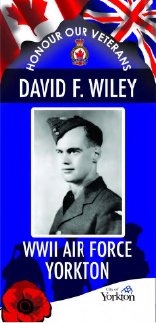 David (Fran) was born September 19, 1918 in Saltcoats, the son of Andrew and Amanda Wiley. Fran enlisted during the onset of World War II in the Royal Canadian Air Force Bomber Command and served as an airframe mechanic. During his time overseas Fran saw hundreds of Lancasters leave the base every night for the missions over the English Channel and watched for them coming back in the morning. The returning crews were taken for breakfast, all the alcohol they wanted, and a few hours of sleep to ready them for another mission the same night. Many of his friends never made it back. After his discharge in 1945, Fran returned home and was hired as a mechanic at Mac's Garage in Yorkton. He married May Brown from Saltcoats on May 12, 1948 and raised four children. Fran pursued his education in the early 1970s and taught industrial arts for several years. He retired in 1983 and continued wood working, building and fixing, and enjoyed spending time at the Legion, especially on Saturdays. A longtime resident at York Lake, Fran passed away at home on August 9, 1989.

Honoured by his family
Harold R. Wilkinson - WWII, Army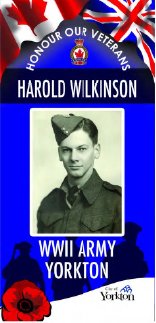 Harold Wilkinson was born in Inglewood ON on February 28, 1922. Harold joined the army (Royal Canadian Ordnance Corps Instrument Division) in 1942. He was trained in the use and maintenance of predictors and was stationed in Gander NL for the duration of the war. Following VE Day Harold returned to Toronto to be discharged and took advantage of the optional education benefit that was offered. He attended the College of Optometry in Toronto, where he received his Optometric Degree. Harold later completed his Doctorate from the University of Waterloo. He moved to Yorkton in 1950, where he was in practice for 43 years.

Honoured by his family
Harold M. Wood - WWII, Army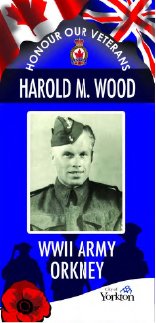 In the summers of 1939 and 1940, Harold went to the army camp at Dundurn. He joined the Canadian Army Active Force on December 30, 1940 and was sent to England. He served with the 7th Anti‐Tank Regiment in the United Kingdom, North Africa, Sicily, Italy, and Northwest Europe. He was in Netherlands when the war ended. He returned home on December 31, 1945 and was assigned to Regina to meet the English war brides. He remained in active service as an instructor in Royal Canadian Artillery and was honorably discharged December 15, 1956.

Honoured by Ted and Nancy Wood and Jean and Dennis Bode
Stanley Wrubleski - WWII, Army
Stanley Michael Wrubleski was born on May 2, 1920 to Michael and Apolonia (Zgoda) Wrubleski in Wadena SK. He joined the Queen's Own Rifles of Canada in 1943 at the age of 23. He completed his term in 1945 when World War II ended. Upon his return home to Kuroki SK he married Arleta Provo and they had eight children. Stanley loved farming alongside his brothers for many years. He passed away on May 6, 1992, in Wadena SK.

Honoured by the Lozinski family
WWI Army Veterans from the Key, Cote and Keeseekoose First Nations
Back row: George Kakakaway, Graham Razor, Murphy McDonald, Francis Caldwell, Roy Whitehawk, Francis Favel, William Severight, Hamilton Razor, Henry Severight;

Middle row: Livingstone Cote, Major Cote, Robert Brass, Archie Cote, Andrew Shingoode, Michael Cadotte, Arthur Severight; Front row: Malcolm Tourangeau, Allan Fiddler, Archie Cadotte, John Favell, William Henry Cadotte, Albert Brass, Edward Cote, Alex McDonald;
Missing from photo: Joseph Crowe, Donald Cote, Frank Cote Sr., Alfred Bryant, Henry S. Keshane.
Honoured by the Yorkton Tribal Council
Peter Wyatt - United Nations and NATO, Military Police
Peter was born on June 4, 1932. He joined the military in 1958 as part of the Canadian Provost Corps. He served in Canada and Germany with NATO and Cyprus with the United Nations. Peter took his release from the military in 1972 and then moved to Yorkton to join the Militia 64 Field Battery of the Royal Canadian Artillery from 1976 to 1978. From 1979 to 1984, Peter served as the commanding officer of the local Sea Cadet Corps. He has been an active member of the Royal Canadian Legion General Alexander Ross Branch #77 from 1974 to present. During that time, he has served as Sergeant‐at‐ Arms and President.

Honoured by the Wyatt family
Robert Yates - WWII, RCAF
Robert Henry Yates was born in Winnipeg in 1916. In 1934 he began working for CNR as a carman. He joined the RCAF in 1940 as an Air Craftsman Second Class in St. Thomas ON. In time he became an instructor in Aircraft Hydraulics and remained there until the end of the war. He obtained the rank of Flight Sergeant. While in Ontario he met Edna Paul who was serving as a telephone operator for the RCAF. They were married while on leave in 1943. After the war Robert returned to the CNR, retiring in 1981. He died June 2, 1996.

Honoured by Kelly and Elyse Thomas
Joseph Yurkoski - WWII, Army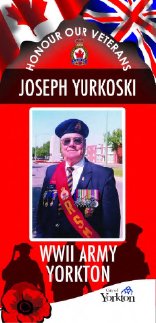 Joseph was born March 17, 1920 in Ebenezer SK, the son of a blacksmith, John and Nellie Yurkoski. He joined the 2nd Yorkton LAA Bty RCA on September 19, 1939 and then moved to Regina at the end of that month. He started training in Camp Shilo in May, 1940 and was sent to England in August 1940. There he served on the Bofors Guns during the blitz of London until June 1943. On June 6 he was transferred to No. 2 CIB W/S (Second Canadian infantry brigade workshop 1st division). Joe landed in Sicily on July 10, 1943 and then sailed to Italy in September. In March 1945 his unit was present in France, Belgium, Netherlands and Germany, and he was promoted to Discipline Area staff sergeant. By October 1945 he returned to Canada, and was discharged in December. Joseph joined the General Alexander Ross Branch #77 in 1945 and was a very engaged, industrious, and honoured member who earned many awards and much recognition over the years.

Honoured by Joanne, Bonnie and Sharon
Alfred M. Egilsson - WWII, Army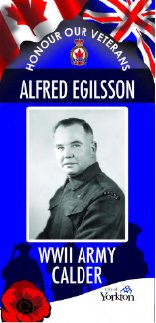 Alfred was born in Winnipeg MB in 1907. He enlisted in the army and served with the 4th Armoured Division RCEME. He served during WWII in Netherlands, Belgium, France, and Germany with trade qualification as a blacksmith. After being trapped in a sewer in Dordrecht, Netherlands, with another soldier from Calder (Mike Calanchie), they were given refuge in a home, the owners putting themselves at great risk by hiding them. He received the 3rd Red Service Chevron, 1939 ‐ 1945 Star, France and Germany Star and Canadian Volunteer Service Medal with Clasp. He volunteered as an MP in Netherlands after the Armistice and stayed a year. Alfred passed away in 2002.

Honoured by Bernie Egilsson, Kelly Egilsson and
Kristi Egilsson Lanlois
Joe Ewack - WWII, Army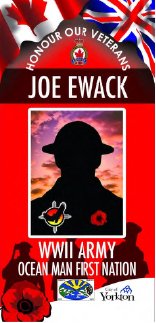 Joe Ewack was born in White Bear First Nation on February 16, 1921. He was a proud member of the White Bear First Nation, and later Ocean Man First Nation, a band of Assiniboine, Cree and Saulteaux whose agricultural development was noted in many reports over the years. In 1941 he married Rose Lavallee. He enlisted to serve his country in WWII and survived being a prisoner of war. His bravery and valour should be honoured and remembered.
Honoured by the Yorkton Tribal Council
Tom Ford - WWII, Army
Tom Ford was born on March 30, 1923 at Carmel SK. He joined the army on March 30, 1942 at Regina. He became a member of the British Columbia Dragoons and served overseas in the British Isles and Italy as a Gunner. He received his discharge on March 30, 1945 at Vancouver. Tom was injured when the tank he was in was blown up. He was the only one to survive. He spent six months in the hospital. Upon his release, he took the train from Vancouver and got off when his money ran out, which happened to be in Yorkton. He worked at North Star Service as a young mechanic and became the owner with his partner. The tiny Shell service station at the corner of Broadway and Myrtle Avenue was a very busy place until its closure in 1996. Tom remained a devoted volunteer of the Yorkton Legion until his passing at the age of 84.

Honoured by Wayne, Brian, Dwight, Candice and Kevin, the Ford family
Felix P. Franke - WWII, Army, Calgary Armoured Regiment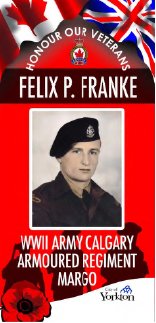 Felix P. Franke (1922‐1998) enlisted in the Calgary Armoured Regiment in January 1944. After training in Great Britain, Felix entered Germany in the last days of the war. He then served with the occupation forces in Germany, Netherlands, and Belgium. Felix was discharged from Canadian Army in 1946.

Honoured by Allan and Juliette Franke and family
Les Frenette - WWII, Army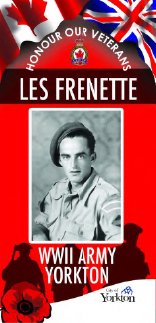 Les Frenette was born Oct. 17, 1922 in Fort Frances ON and later moved to Winnipeg MB where he enlisted in the Canadian Army on November 10, 1942 with his brother Gerald. He was deployed to England and fought through Italy, France, Belgium and Germany. He was discharged on March 22, 1946 and was honored to hold the 1939/45 Star, the Italy Star, France and Germany Star, and Canadian Volunteer Service Medal and Clasp. Upon moving to Yorkton, he opened City Radiator which he ran with his wife until his passing on April 29, 1976. He was blessed with two children, Larry (Frenette) and Linda(Stamatinos).

Honoured by Linda Stamatinos, Larry Frenette and their families
George D. Glass - WWII, Army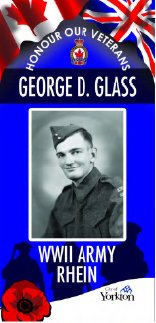 George Dobie Glass was born February 20, 1919 in the Rhein District. He was the son of James and Agnes Glass and attended both Clyde and Shamrock Schools. George enlisted in 1942 in the Royal Canadian Army, and served with the Engineering Corps overseas. He was discharged in 1945. George returned to the family farm and purchased additional land which he farmed until his retirement. George continued to reside on the farm until his passing on January 9, 1994.

Honoured by his family
Wallace Goulden - WWI, Army
Wallace (Wally) Goulden was born in Llandow, Wales, in 1891. In adulthood, he moved to Saskatchewan and in Regina on January 4, 1916 he enlisted with the Canadian Expeditionary Force, with which he served throughout the entire war in Europe. After the war, he returned to Canada and settled in Kamsack, where he fathered three children. He passed away in 1970 at the age of 79.

Honoured by Rex and Randy Goulden
Allen C. Hippsley - WWII, Army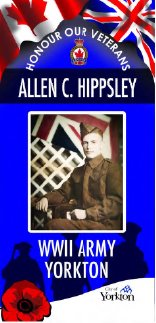 Allen C. Hippsley served as a wireless operator in the Calgary Regiment (Tanks) in Italy, France, Germany and Central Mediterranean. He was born in Yorkton on December 16, 1920, to Albert and Edith, and had six brothers and two sisters. Allen began playing piano in dance bands in his teenage years, continued throughout his basic training, while overseas and following his discharge. His favorite memory was when he played a white grand piano that was located in Mussolini's abandoned mansion following his arrest in 1943. In the early 50s Allen began working for Massey Ferguson and in 1962 for Roy and Gordon Brown. Allen lost his wife Evelyn (Kaping) of nearly 50 years to cancer in 2004. They were blessed with four children: Deb (Doug) Wilkinson, Allen, Mitch (Geraldine) and Krista Dean; nine grandchildren and 13 great‐grandchildren.

Honoured by his proud family
Shayne M. Holwin - Canadian Forces - Royal Roads Military College
Shayne Holwin (Holowatuk) RRMC, Officer Cadet (Military College ‐ Engineering) was born July 22, 1964 to Matt and Elsie Holowatuk of Yorkton. After high school graduation in 1982, Shayne was accepted into Royal Roads Military College in Victoria, where he completed his first year of University. In May 1983 Shayne received the Barman award which entitled him to assist first‐year students. In addition to his studies, Shayne was the top of his class in fitness and was appointed the Cadet Flight Sports Officer. He was also a snare drummer in the Military College pipe and drum band. While earning the reputation of a leader at RRMC, Shayne became ill with leukemia. Shayne then valiantly took on his most difficult battle, against the illness he fought with all his physical and spiritual strength to his last day, Dec. 17, 1984. He now watches over us from a 'higher post'.

Honoured by Swade Holowatuk and family
George Thomas Howe - WWII, Army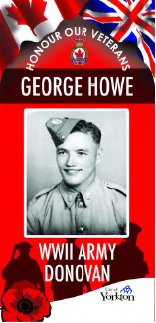 George Howe was born in the Clavet district and spent part of his childhood fostered by the Moir family in Sheho. He volunteered on May 20, 1941 with the Canadian Army and served with the 2nd Division RCASC as a mechanic. On June 6, 1944 he was part of the first wave of Canadian soldiers to land on Juno Beach in Normandy. Further tours included the United Kingdom, continental Europe, France and Netherlands until his discharge on October 17, 1945. Returning home to Saskatchewan, he farmed for a short time, and then was employed by the CNR. George was a proud Canadian who was happy to serve his country and who instilled the Canadian pride in his family.

Honoured by his family
Austin E. Ingham - WWII, RCAF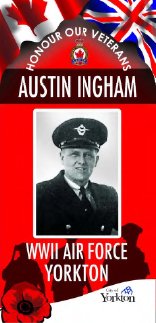 Austin Elmer Ingham was born in Blairmore AB in 1906. He joined the Royal Canadian Air Force in 1939 and served in the British Commonwealth Air Training Program as a flight instructor on twin engine Avro Anson aircraft. He was stationed in Regina, Prince Albert, and Portage la Prairie, and achieved the rank of Wing Commander. After World War II, Austin Ingham established Yorkton Flying Services. He provided flight training, charter flights, aircraft maintenance and was one of the first pilots in Saskatchewan to conduct aerial crop spraying in 1950. Mr. Ingham operated Yorkton Flying Services until his passing in 1970.

Honoured by Shirley, Leslie, and Doug Ingham and families
Emil Kimmel - WWII, Army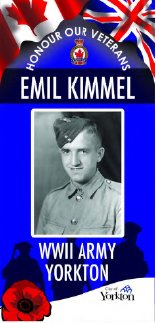 Emil Kimmel was born in 1920. At the age of 6, along with his family, Emil emigrated to Canada settling in Yorkton. Emil left Yorkton briefly for Winnipeg where at the age of 20 he enlisted in the Royal Canadian Army. He served overseas in Sicily and Italy before being recruited into the First Special Service Force, an elite fighting force nicknamed the Devil's Brigade. After the unit disbanded, Emil joined the P.P.C.L.I. fighting on the front lines in both Netherlands and southern France. Upon release from the army, Emil returned to Yorkton where he married Agnes Lowenberg. Together they had three children: Gerry, Janice and Brenda. He remained in Yorkton for the rest of his life until he died at 88 years of age.

Honoured by Brenda Slogoski
Bertrand D. Kirkham - WWII, RCAF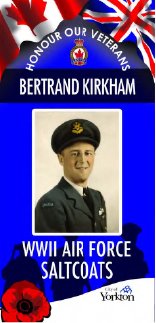 Bert was born on the family farm, Woodlands, at Saltcoats on May 23, 1921. He enlisted in June 1941 and became a pilot with Bomber Command, flying the Halifax II on night bombing missions over Germany. He flew 11 raids over Germany before being shot down in June 1942. He and his entire crew parachuted out safely but were captured. Bert spent the last twenty‐three months of WWII as a POW, first at Stalag Luft 6, and then in Stalag 357. Post war, Bert farmed Woodlands, married Adeline Fullawka from Tiny SK and raised seven children. He passed away July 12, 2002.

Honoured by his family
Ernest Kitchemonia - Korean War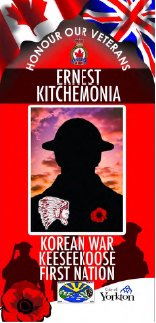 "The Korean War erupted in 1950 and several hundred Indigenous people would serve Canada in uniform during the conflict. Many of them had seen action in the Second World War which had only come to an end five years earlier. This return to service in Korea would see some of these brave individuals expanding on their previous duties in new ways. The story of Indigenous service in the First and Second World Wars, the Korean War and later Canadian Armed Forces efforts is a proud one. While exact numbers are elusive, it has been estimated that as many as 12,000 First Nations, Métis and Inuit people served in the great conflicts of the 20th century, with at least 500 of them sadly losing their lives."

‐Veterans.gc.ca
Honoured by the Yorkton Tribal Council
Alexander Kreklewetz - WWII, Navy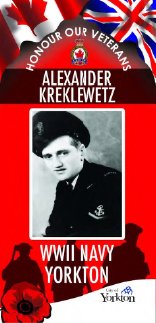 Alex was born October 31, 1922 in Kandahar SK. At the age of 10, Alex's father passed away and the family moved to Yorkton. There he completed elementary school and several years at Yorkton Collegiate. On November 12, 1942 he joined the Royal Canadian Navy. His theatre of service was Canada and high seas in the Atlantic and Pacific zones. He proudly served on the HMCS Prince David. Alex was discharged January 7, 1946 when WWII ended. He received several medals: 1939‐1945 Star‐France, Germany and Italy, 1939‐1945 Star‐Canadian Volunteer Service Medal. He married Hope Winniski in 1954. They raised two sons and a daughter. Alex passed away at home in Yorkton on October 5, 2005.

Proudly honoured by his children and grandchildren
Janet Agnes Love - WWII, Canadian Women's Army Corp and RCAF
In Vancouver on September 20, 1942, Janet Agnes Love volunteered for service. After basic training with the Canadian Women's Army Corps, Love was attached to the Royal Canadian Airforce (RCA) in Victoria as a plotter‐telephonist in the Ack Ack Gun Rooms to monitor air and naval traffic on the West Coast. In time, Love was sent to Ste. Anne de Bellevue, Quebec, for officer's training and afterwards posted to Prince Rupert as a Non‐Commissioned Officer (NCO). In April 1945 Love opted for an overseas position to serve in Netherlands as part of the Occupied Forces in Germany. Love's father, Thomas Charters Love, received the Military Medal for his contribution in the Battle of Passchendaele in 1917.

Honoured by her family
Donald Baird Low - WWII, RCAF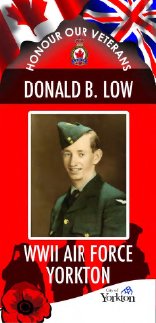 Donald was born in Birtle MB on March 7, 1926. At the age of 18 Don joined the RCAF with the intention of becoming a pilot, but was selected to train as a wireless gunner. He received the distinction of "expert marksman" and wore the crossed rifles and crown on his left sleeve. Three of his older brothers also served in the RCAF. After VE Day, Don signed up for the Pacific Force and received further training at Station Macdonald where they were issued and trained on American weapons. After the surrender of Japan, Don was discharged and returned to school and civilian life in Foxwarren MB. There he married the love of his life, Elaine. They moved to Bredenbury and later to Yorkton where Don worked as a mobile supervisor for the Canadian Pacific Railway. Don was a member of the Royal Canadian Legion and was very proud to have received a 70‐year member pin.

Honoured by his family
Hugh MacColl - WWII, RCAF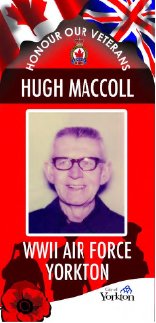 Cpl. Hugh Clifford (Mac) MacColl was born on January 6, 1908 in Regina, Sask. He eventually moved to Buchanan SK when he worked for the Bank of Commerce. He met and married Mary Strilaeff. In 1941 he enlisted in the RCAF and was posted to London, England, in 1943. He returned to Canada aboard the Queen Elizabeth just after Christmas, 1945. He was discharged from the RCAF on Feb 5, 1946. He and his family moved to Yorkton where he worked as an accountant. He was a member of the Royal Canadian Legion and UCT. He died June 3, 1973.

Honoured by his family
Gordon M. MacKenzie - WWII, RCAF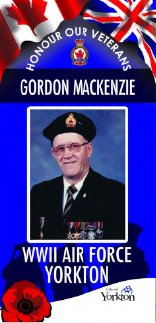 Gordon MacKenzie was born Feb. 5, 1922 in Kessock SK and passed away on April 27, 2003 in Yorkton. Gordon joined the RCAF in October 1942. He trained as an aircraft mechanic in Moose Jaw SK and MacLeod AB before being deployed in England, Bombay, Calcutta, and Burma. Upon his honourable discharge on March 30, 1946 Gordon began his career with the Saskatchewan Department of Highways. He married Ellen Walsh and was blessed with children James and Diane. Gordon was dedicated to community volunteerism, serving in many capacities with various organizations. He joined the General Alexander Ross #77 branch in 1946 and served on every committee. He was Legionnaire of the Year in 1990 and elected President of Branch #77 in 1992. The Royal Canadian Legion bestowing on him the Certificate of Merit (1988), Life Membership (1997) and the Meritorious Service Medal (1999). In 2002, Gordon received the Golden Jubilee Medal on the occasion of the 50th anniversary of the Accession.

Honoured by James and Diane MacKenzie
Albert M. McInnes - WWII, Army 65th Anti-Tank Battalion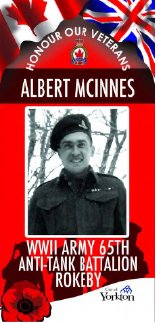 Albert was born on a farm south of Yorkton and spent much of his young adult life working in the area. He joined the army on November 6, 1940 in Grenfell, and then trained in Canada until he sailed from Halifax NS for England on June 1, 1942. Albert served with the 6th Battery and the 5th Canadian Anti‐Tank Regiment RCA from Sheffield Park, Sussex, where they received equipment and vehicles. From there, they shipped out to France and landed on July 26, 1944. He fought in France, Belgium, Netherlands and Germany. He was wounded at Esschen, Netherlands on October 21, 1944. On February 21, 1946, he was discharged from the RCA and returned home to Rokeby.

Honoured by Brooke, Linda and Wayne McInnes
Simos Michalos - WWII, Greek Navy
Simos was born in Greece in 1908 and was raised in the village of Egrigoros on the island of Chios. He served in WWII and fought until the Greek forces surrendered to Germany in May 1941. Originally in the Royal Greek Navy, he was later drafted into the army to fight the Italian forces in Northern Greece and Albania. Simos returned to his village of Egrigoros after the war and farmed with his wife and seven children. His daughter Mary Michalos immigrated to Canada with her family in 1964, followed by her siblings Iris, Sotiris, Gregory and Elias.

Honoured by Mary Stamatinos and family
John Miller - WWII, Navy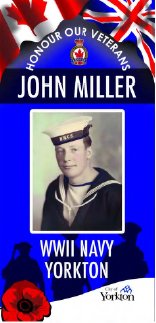 John was born on Aug. 11, 1923 and was raised on a farm near Orcadia SK with nine siblings. In April 1943 John left home to join the navy and was stationed in Southampton to continue landing craft training for the Normandy invasion. His craft made numerous trips across the English Channel carrying troops to battle. After the war John returned home to farm near Rokeby SK where he and his wife Joyce raised seven children. He retired to Yorkton from dairy farming after a brush with death, being saved from a charging bull by his trusty dog Butch. He spent much of his retirement volunteering to various charities and organizations, receiving many accolades and awards along the way.

Honoured by his family
Sidney (Dashy) Mogor - WWII, Army
Sidney was born December 15, 1921 and lived on a farm northeast of Saltcoats. He enlisted on December 1, 1942 in Regina, and shortly after was sent to Prince Albert for training. In 1943 he was sent to the Pacific coast for advanced training and was attached to the First Battalion of the Oxford Rifles. He was with this commando unit for the next three years. He spent a lot of time on ships and landing crafts. They landed on many different islands when the Japanese were in the Kiska area. During one landing, Sidney was hit with shrapnel and had to be taken out of the ranks. He was then sent on a vocational training course in Vancouver and spent the rest of the war as a cook. He was discharged December 19, 1945.

Honoured by his family
Allen C. Morley - WWII, Army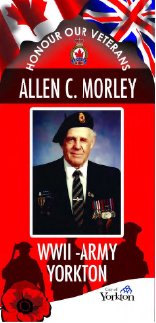 Private Allan Charles Morley was born May 14, 1924 in Mossbank SK. At the age of nine he showed outstanding marksmanship and was very proud to enlist in the Army when he was 17. After basic training he fulfilled his dreams of becoming a Paratrooper with the 1st Canadian Parachute Battalion in 1944. Overseas he became a sniper and participated in Operation Overlord at Normandy and also served in Belgium, Netherlands and Germany. His battalion never failed to complete a mission and were the only Canadians to participate in the Battle of the Bulge. After the war ended, he met and married Edith Sthamann in 1950. They raised seven children and remained happily married for 63 years until his passing in 2014.

Honoured by the Morleys
Ewan Morrison - WWII, Army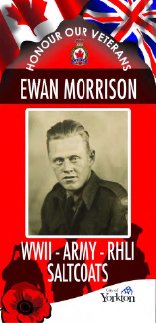 Ewen Morrison volunteered for service on January 20, 1943 in Regina. He served in Canada, the United Kingdom, and continental Europe with the Royal Hamilton Light Infantry

(RHLI). Morrison landed on Juno Beach, D‐Day + 30. He fought on the frontline as an infantry soldier and, as a trained scout, he went behind the lines to garner intelligence. Morrison fought in every battle with the RHLI, from France to Northern Germany, without an injury, something military historians have coined as "a sheer miracle". Morrison comes from a lineage of warriors; his Uncle Ewen, his namesake, was killed in the Battle of Passchendaele in 1917.
Honoured by his family
Finlay A. Morrison - WWII, Army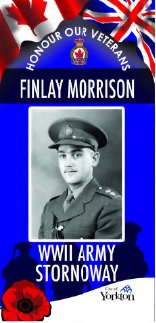 Dr. Finlay Angus Morrison was born in Stornoway SK on December 15, 1917 and attended the University of Saskatchewan, graduating in 1942 as a licensed pharmacist. In May 1942 Finlay joined the Canadian Army where he was commissioned as a Lieutenant. He served overseas with the South Saskatchewan Regiment as a platoon commander. In April of 1944 Finlay was appointed Aide de Camp to the Canadian Army Commander General H. D. G. Crerar. He served with the General in the NW Europe campaign where he was promoted to Captain. Finlay returned to Canada with the General in August 1945 and was the recipient of the MBE (Member of the British Empire). Finlay was also a member of the Canadian Military reserves and was the Commanding Officer from 1959 ‐ 1963 of the Canadian Officers Training Corps UBC with a rank of Lt‐Cpl (Reserve). Dr. Morrison died on December 28, 2017 at the age of 100.

Honoured by the Morrison family
W. Ron Muir - Korean War, Army PPCLI
Ron was born January 9, 1928 and was raised on the family farm just west of Yorkton. He was one of five children of William and Jessie Muir and attended the Orkney school as a young man. He eventually joined the military and trained in Calgary as a paratrooper as part of the Princess Patricia Canadian Light Infantry. After his service in Korea he returned to Yorkton where he met and married Marjorie Shiner. They eventually settled in Calgary and raised six children. He passed away February 6, 1999.

Honoured by the Muir family
Glen T. O'Soup - WWII, Army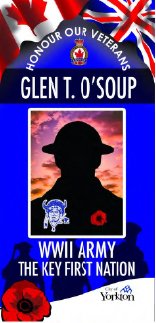 Glen Thomas O'Soup was born in 1927 on the Key First Nation. He was a World War II veteran who was a member of the Norquay Legion for many years. From 1962 to 1964 he served as chief of his reserve. Among other things he was a pipeliner, farmer and thoroughbred owner.

Honoured by the Yorkton Tribal Council
Michael Palmer - NATO, Peacetime, RCEME Army Engineering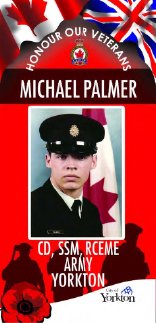 Sgt. Michael H.J. Palmer, CD, SSM, (son of Capt. Mitchell G.J. Palmer, CD, SSM) joined the military in 1980 after graduating from high school in Cudworth SK. After successful completion of all RCEME Fire Control Systems Technician training courses in CFB Cornwallis NS, CFB Kingston ON, CFB Borden ON and CFB Longue Pointe QC, he was posted to 1 RCHA in Lahr, Germany. The remainder of his career was spent in various postings, taskings and courses across Canada, Germany, France and the USA. He was awarded the Canadian Decoration and the Special Service medal (NATO) prior to retirement in 1995.

Honoured by his family
Mitchell G. J. Palmer - Peacetime, RCAF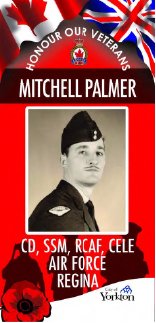 Capt. Mitchell G. J. Palmer, CD, SSM, joined the RCAF in 1961. After completion of trades training for a Heavy Radar Tech in CFB St Jean PQ and CFS Clinton ON, he was posted to CFS Puntzi Mountain BC. Subsequent postings included CFS Yorkton SK, CFS Dana SK, CFS Mont Apica QC and CFS Sioux Lookout ON, where he also served as Search Master. He commissioned in 1980 as an Officer in the CELE Branch and was posted to CFS Beaverlodge AB, CFB Lahr, Germany, NDHQ Ottawa and CFB Kingston, where he retired as a Captain in 1993.

Honoured by his family
W. J. W. (Jack) Parr - WWII, Army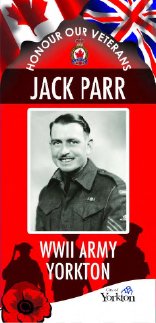 Jack Parr joined the army in 1940 and served in the 76 Field Battery RCA and the 17 Field Regiment RCA. Jack earned the rank of S/Sgt while serving in the United Kingdom, continental Europe, and central Mediterranean area. He was part of the liberating force of Netherlands and served our country until he was discharged in 1946.

Honoured by Ron and Susan Wrubell and family
Joseph Pelly Sr. - WWII, Army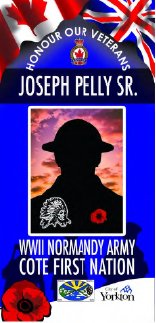 Joseph Pelly was a member of the Cote First Nation near Kamsack. He was an army marksman in Europe. "As with other Commonwealth armies, the Marksman in the Canadian Army is a shooting achievement recognized by a badge bearing the monarch's crown and crossed .303 Lee–Enfield No. 4, Mk I rifles."
- Wikipedia
"The First Nations, Métis and Inuit people of Canada have a long and proud tradition of military service to our country." ‐Veterans.gc.ca
Honoured by the Yorkton Tribal Council
George W. Printz - WWII, Navy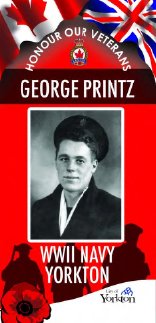 George William Printz was born in 1925 at Melville SK, and later moved to Yorkton. George enlisted in the Navy on March 18, 1943, when he was 17 years old, following in his older brother Gordon's footsteps. He took his basic training in Regina SK and Esquimalt BC. He was deployed on the high seas on April 15, 1943, on various corvettes escorting ships across the Atlantic Ocean. These included the Huron and the Algoma based in Halifax NS. He was discharged in November 1945. Following his discharge, George spent several years as an officer for the Navy League in Yorkton. He was a proud Legion member in Yorkton until his passing in 1998.

Honoured by Mauri Ingham and his family
John Henry Propp - WWII, Army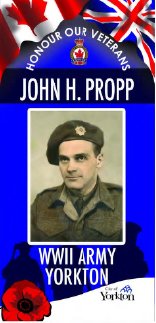 John Henry Propp was born in Rhein SK in 1921. He received his education in Rhein, and later in Yorkton. John worked in the grocery business in Yorkton until he enlisted in the Armed Forces in 1942. John served as a wireless operator in the Lake Superior Regiment Reconnaissance Platoon in France, Belgium, Netherlands and Germany. After the war, he was part of the army of occupation in Germany. Upon his discharge in 1946, John returned home to Yorkton and to the family grocery business. He married Ethel Graves in 1947, and they raised six children. John was a founding member of Midwest Packers and later the manager and owner of Propp's Foodateria in Yorkton. John had a life membership in the Royal Canadian Legion and was the bugler for the Colour Party for many years. He passed away in 2015.

Honoured by Bob and Deb Thompson and family
Brigadier-General Alexander Ross - WWI and WWII, Army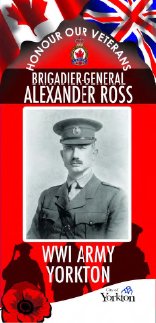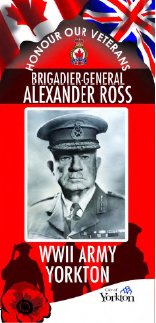 Alexander Ross was six years old when his family emmigrated from Scotland to Stilton SK. A pre‐war militia member, he served as a recruiting officer in 1914. Once in France, Ross commanded the 28th Battalion (Northwest) from 1916 to 1918. After the war, Ross returned to the law profession, being appointed District Judge of Yorkton. He was also a prominent figure in the Royal Canadian Legion, serving as a Dominion President for four years and heading the Vimy Pilgrimage of 1936. He was awarded the King George V Jubilee Medal in 1935, and the King George VI medal in 1937. Ross was Honoree Colonel of the 53 Heavy Ack Ack Regiment RCA at Yorkton from 1946 to 1952. He also served as the Honoree Colonel of the Regina Rifle Regiment. Ross is perhaps best known for his statement concerning the Battle of Vimy Ridge, made in 1967 on the 50th Anniversary of the battle: "It was Canada from the Atlantic to the Pacific on parade. I thought then, and I think today, that in those few minutes I witnessed the birth of a nation."
Honoured by the General Alexander Ross Yorkton Legion Branch #77
James Rubletz - WWII, Army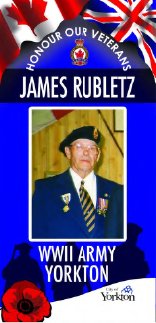 James Rubletz was born on February 28, 1921 in the Calder district of Saskatchewan. James was employed in the bush camps before he enlisted in the Army on October 16, 1942. He served overseas with the Royal Winnipeg Rifles during WWII and was part of the contingent in the invasion of France (D‐Day). While he was serving overseas, James met and married Elizabeth Gordon of Glasgow, Scotland. James was an active member of the legion, serving on the Colour Party and various positions on the executive. He passed away June 22, 1997 at the age of 76.

Honoured by Connie Rubletz
Patrick Rushowick - Afghanistan and Haiti, Combat Engineer
Patrick was born November 17, 1984. He attended French Immersion K‐12 in the Yorkton public schools. At a very young age he wanted to be a soldier. Pat's paternal grandfather had been an engineer in the Canadian Army in WWII, and he wanted to be the same. Patrick was sworn in on June 12, 2003, and spent his first year at St‐Jean‐Sur‐Richelieu. The next four years were spent as an Officer Cadet at Royal Military College at Kingston. He graduated with a degree in science, was promoted to Second Lieutenant and posted to CFB Gagetown. Here, as Pat put it, "I was trained to be an Officer of Engineers". Because he was fluent in French, he was posted to CFB Valcartier QC with the 5th Combat Engineer Regiment. During his time there, he was deployed to Haiti and then Afghanistan, and lastly to CFB Kingston. On June 11, 2013, he succumbed to PTSI, post‐traumatic stress injury. He received the following medals: Canadian Sacrifice Medal, Afghanistan Medal and one service bar, Service Medal with Haiti Ribbon.

Honoured by the Rushowick family
Stephen Rushowick - WWII, Royal Canadian Engineers
Stephen Rushowick (grandfather of Captain Patrick Rushowick) joined in 1942 at Winnipeg. After training at Dundurn SK and Esquimalt BC he went overseas to England. He served in France and Netherlands from the 12th day after D‐Day, until the end of the war. Some of his tasks included mine‐detecting in Normandy, France, directing tanks onto pontoon boats, and taking them to the other side of the Seine River. When in Netherlands where he did mostly reconstruction work, he stayed with Dutch families. He always shared his rations with the family because the Dutch were starving. He returned to Canada in late 1945. He received the following medals: 1939‐45 Star, France and Germany Star, Canadian Volunteer Service Medal with Overseas clasp, Defence Medal, War Medal.

Honoured by the Rushowick Family
Michael Rusnak - WWII, Navy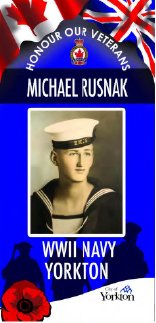 Michael was born on Oct. 23, 1925 on the family farm in the Insinger District. In 1940, he left home with $31 in his pocket and made his way to Winnipeg where he attended Winnipeg Tech. He received his diploma as a machinist and worked for one year in Fort Erie ON at a fleet aircraft factory as a lathe operator on Lancaster Aircraft landing cylinders. However, his greatest desire was to join the Navy. Michael joined the Navy in July 1941 and had his first postings in Freenock, Scotland. While overseas, Michael was stationed in Ireland (Belfast), England (Portsmouth) and St. John's NL. Michael was discharged from the Navy in 1945 and returned to farm near Insinger SK. Michael later began a 60‐year career in insurance with Mutual Life of Canada.

Honoured by Doris Rusnak and family
Godfrey Schmidt - WWII, Army, Princess Louise Dragoon Guards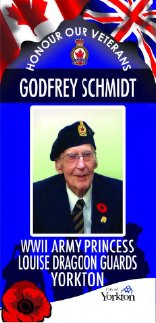 Godfrey was born in Yorkton, the youngest of eight children. He attended Burke School and Yorkton Collegiate Institute. He entered the Armed Forces in July 1941, completed basic training in Maple Creek and advanced training in reconnaissance at Dundurn. Godfrey initially trained as and became head of the Bren gun carrier drivers. He then chose to take a course on operating motorcycles. In 1944, his outfit sailed from Halifax to France. Combat took him through France, Belgium, and Netherlands where he spent the last three months until V‐Day. Godfrey drove motorcycles daily, visiting different squadron locations, and then reported back the intelligence he had gathered.

Honoured by Betty Schmidt and family