The Westland Arena is a multi purpose arena with seating for up to 3,120 in the Gallagher Centre. It is home to the Junior A hockey team, the Yorkton Terriers. All seating is individual moulded plastic seats constructed on a riser mount system. Accessible seating is along the top row of section A allowing easy access to washrooms and the elevator. Surrounding the ice surface is 8' of tempered glass. The facility maintains a comfortable temperature for spectators to enjoy events year round.
Amenities
Sound system
Wired and wireless microphone
Two event press boxes with telephone / DSL outlets
Wireless internet and Wi-Fi connections suitable for live streaming
Four dressing rooms with shower and washroom area
One referee room
Liquor vending area plus two additional satellite concessions for large crowds
LiveBarn
LiveBarn provides Live & On Demand broadcasting of amateur and youth sporting events. The patented technology and camera systems automatically follow the flow of the game – similar to a traditional television broadcast. LiveBarn currently broadcasts from over 1,000 facilities, and are constantly adding new locations.
Use our promo code ef58-b83n when you sign up and receive 10% off your subscription price!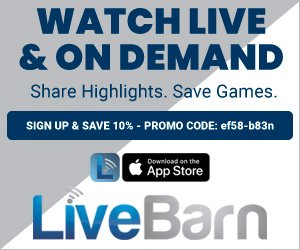 Ice schedule and bookings
Rates

| | |
| --- | --- |
| Rates | |
| Prime ice (per hour) | $203.70 |
| Non-prime ice (per hour) | $101.85 |
| Rush ice | $101.85 |
| Spring/Summer ice (available April, July, August/per hour) | $218.40 |
| Dry floor (per hour) | $139.65 |
| Dry floor (per day) | $2,638.65 |
| Dry floor 5+ days (per day) | $1,979.25 |
| Removal of arena glass | $2,998.80 |
View our ice schedule online to know what times are available for private rentals.