Posted on Tuesday, March 16, 2021 09:23 AM
Yorkton City Council tabled the 2021 Operating and Capital Budgets Monday night, holding municipal tax increases to zero percent for the coming year.
"This budget, as presented, represents a zero percent increase in taxation for the City while maintaining a balanced budget, which is required of us as a municipality," said Mayor Mitch Hippsley. "I'm very pleased that we were able to maintain 2021 taxes at last year's level.

"Not knowing where the city and the province will...
Posted on Wednesday, February 24, 2021 02:07 PM

Posted on Tuesday, February 23, 2021 10:20 AM
The Civic Recognition Awards Committee presented the 2020 Civic Recognition Award in the Group Category, prior to the February 22 Council meeting.
In light of COVID-19, each category winner will be presented their award during the next two regular Council meetings to keep the number of individuals in one room below the maximum capacity.
The awards are given annually to recognize individuals who have made outstanding contributions for the betterment of the City.
Adult Civic Recognition Category...

Posted on Tuesday, February 02, 2021 04:00 PM
Details
The applicant proposes to operate an Automotive Maintenance use at 134 Broadway Street East (Lots 15&16, Blk/Par M, Plan 98Y022160) in a C-1 City Centre Commercial zoning district. Automotive Maintenance uses within the City Centre zoning district are Discretionary Uses under Zoning Bylaw No. 14/2003 and must be publicly advertised before Council can make a decision on the application.
Information
Questions regarding the application may be directed to Carleen Koroluk, Land Use Planner...

Posted on Tuesday, February 02, 2021 03:49 PM
Legal Description and Address
All of Road Allowance ORA 013-03-1-W2 Ext. 0 and Part of Road Allowance ORA 144-26-4-W2
Civic Address: Range Road 2044, south of Grain Millers Drive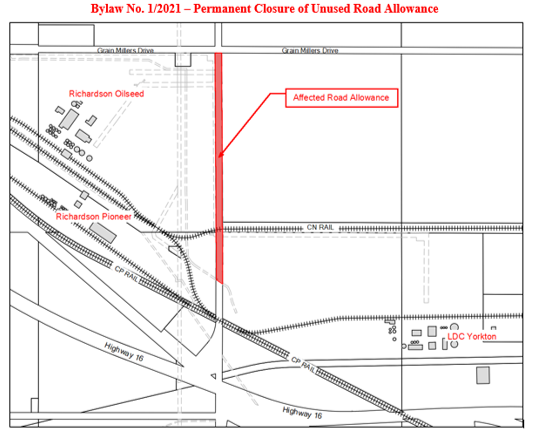 Details
The City of Yorkton proposes to permanently close a portion of undeveloped Range Road 2044, south of Grain Millers Drive and north of the CP rail line. The portion of closed right-of-way is intended to be added to the City's industrial land inventory. Permanent road closures must be approved by the Province, and...