The City of Yorkton renews partnership agreement for the Access Communications Water Park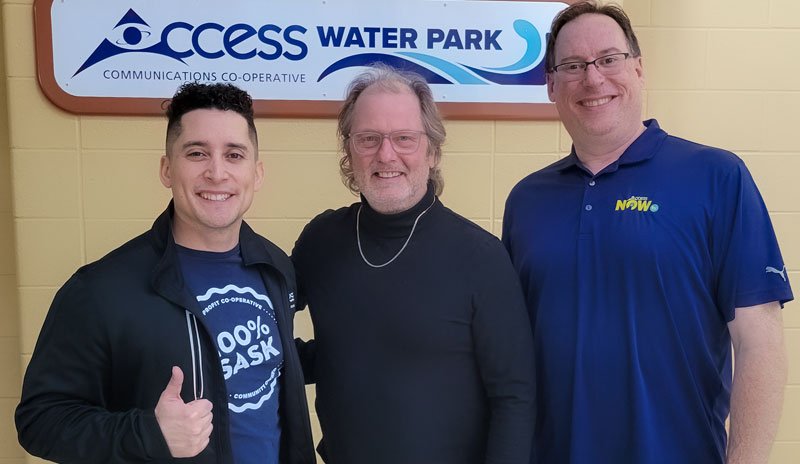 FOR IMMEDIATE RELEASE:
March 3, 2023
Yorkton, SK – The City of Yorkton and Access Communications Co-operative are excited to announce today the renewal of their partnership agreement for the naming rights to the Access Communications Water Park in the Gallagher Centre.
As part of the agreement, the Gallagher Centre will continue to feature free public Wi-Fi internet service throughout the complex, allowing guests to easily connect and interact online.
"The Gallagher Centre plays a big role in bringing the Yorkton community together, and we couldn't be happier to continue this partnership," said Carmela Haines, CEO of Access Communications. "Access proudly reinvests in the communities we serve. Delivering technology that connects people is what we do, and we look forward to the continued partnership with the City of Yorkton."\
"We're grateful to Access Communications for delivering their Wi-Fi internet services to all Gallagher Centre guests," said Mitch Hippsley, Mayor of Yorkton. "Communication is 'KEY' to any organization and Access Communications is a much appreciated partnership. The Gallagher Centre is a true gem to the area surrounding Yorkton and all the events it hosts, and these partnerships help ensure its continued success and viability."
The Access Communications Water Park is a draw for families in Yorkton and the entire Parkland area. The Water Park offers unique amenities, including a wave-pool with zero-depth beach entry, 25-metre instructional pool, whirlpool, lazy river, two-storey waterslide, party room, sauna and steam rooms, plus a two-storey climbing wall. The Water Park is located in the Gallagher Centre, eastern Saskatchewan's sports, recreation, entertainment, and convention hub.
About Access Communications Co-operative
Access Communications Co-operative began serving customers in 1978 and has grown into one of Saskatchewan's largest telecommunications companies. They deliver exceptional communications and entertainment services to over 235 communities and 200,000 square kilometres of rural areas across our province. As a community-owned, not-for-profit co-operative, their commitment to the community goes beyond providing internet, television, phone, and security services. They dedicate 100% of their earnings to improving the quality of life in the communities and rural areas where they live and do business, primarily through their AccessNow TV community channels, corporate initiatives and fundraising events, and their Children's Fund charity. Visit myaccess.ca for more information.